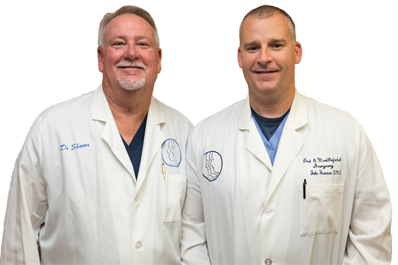 Choose our facility with confidence!
Dr. Shaver and Dr. Hammen have over 40 years of combined service as oral and maxillofacial surgeons. You will find our highly trained staff will provide professional service to you or your family member, in a friendly and caring atmosphere.
Through continued professional training and education, our team of doctors are committed to providing patients with most current technology in the field. From wisdom teeth or dental implants, to bone grafting or general extractions, Owensboro Center for Oral & Maxillofacial Surgery, PLLC is your surgery provider.
Dr. William D. Shaver

D.M.D.

Dr. Shaver is from Central City, Ky and is a graduate of Western Kentucky University and the University of Louisville School of Dentistry. Upon graduation from dental school, he began his training in Oral and Maxillofacial Surgery at the University of Cincinnati and General Hospital.

Upon completion of his internship and residency, he began his practice in Owensboro, Ky in 1979 and has been actively practicing in our community since that time.

Dr. Shaver is a life member of the American Dental Association (ADA), life fellow of the American Association of Oral and Maxillofacial Surgery (AAOMS), life member of the Green River Dental Society (GRDS), and life member of the Kentucky Society of Oral and Maxillofacial Surgery (KSOMS).

Dr. Shaver is married to his high school sweetheart, and they have two children and three grandchildren. Dr. Shaver enjoys hunting, fishing, boating and farming.

Dr. and Mrs. Shaver reside in Owensboro.

Read More

Dr. John E. Hammen

D.M.D.

Dr. Hammen is a native of Mexico, Missouri but moved to Owensboro at age 12. He graduated from Daviess Co. High School and went to college at the University of Kentucky. He graduated with honors with a bachelor degree in biology. He then stayed in Lexington receiving his doctor of dental medicine from the University of Kentucky College of Dentistry. He was then accepted into the Oral and Maxillofacial Surgery residency at the University of Cincinnati.

At this time, he received extensive training in dentoalveolar surgery, anesthesia, trauma, reconstructive bone grafting, implants and medicine. In the last year of the 4 year program, he served as chief resident caring for patients at the University Hospital, Cincinnati Children's Hospital Medical Center and the VA Hospital.

Following his residency, his family moved back to Owensboro where he entered practice with Dr. Shaver at the Owensboro Center for Oral and Maxillofacial Surgery.

Dr. Hammen is married to his wife, Julie, and is the father to three kids, including twins.  He enjoys spending time with his family and the outdoors when he is away from the office.

Dr. Hammen is a board certified by the American Board of Oral and Maxillofacial Surgery (ABOMS) and is a fellow of the American Association of Oral and Maxillofacial Surgery (AAOMS). He is also a member of the Kentucky Society of Oral and Maxillofacial Surgery (KSOMS), American Dental Association (ADA), Kentucky Dental Association (KDA), and the Green River Dental Society.

Dr. Hammen is currently an active staff member at Owensboro Health Regional Hospital. Owensboro Center for Oral and Maxillofacial Surgery is a member of the Greater Owensboro Chamber of Commerce.

Read More